I, like most of the residents of Kilcummin cannot get my head around the situation that has arisen in Kilcummin regarding the planned sewerage scheme. I cannot understand why a scheme approved in 2007 still has not been completed over 7 years later.
It appears that the Dept of the Environment headed by Phil Hogan, Kerry County Council and the previous government  have simply played a game of ping-pong with this issue at the expense of the Kilcummin residents. In 2010 the Dept of the Environment had requested the County Council to review the costs of the original sewerage scheme plan. A new plan to connect to the Killarney Scheme was initiated, however this was abandoned in 2013 for technical reasons.  The situation is now back to square one where a standalone plan is the preferred solution once again. With Irish Water now in control of water services I fear that this will further complicate the resolution of this matter.
The Dept of the Environment seems to have plenty of funds for other schemes around the country, as you can see from the image below from Phil Hogan's Newsletter there is plenty of good news for the people of Kilkenny in relation to sewerage schemes.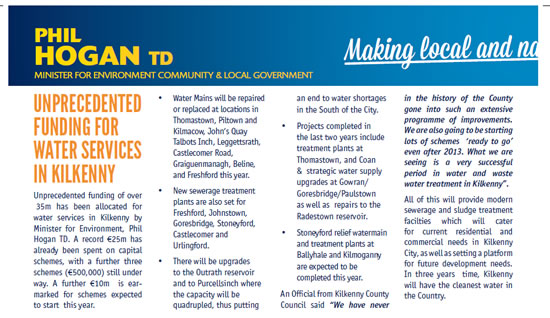 I cannot help but think that the people of Kilcummin have been "robbed by Peter to pay Paul", whether Paul is a bank bondholder or another sewerage scheme I don't know, all I know is that the Kilcummin people & the Killarney environment deserves better.
The delay of the sewerage scheme also impacts the road network in Kilcummin which is in an appalling state as the Council will not resurface until the sewerage works are complete.
I hear you ask what can I do? Well I'm not going to hoodwink the people by suggesting that I have a magic wand. I will however give a commitment that I will put my shoulder to the wheel and not take my eye off the ball in relation to applying pressure on the relevant departments in getting this issue progressed. When elected I will work with my fellow councillors to establish an unified strategy, as it's clear that solo runs to date have not progressed this important issue.