The development, over a distance of 0.8km, will now be subject to a Part 8 planning process with submissions accepted from the public until March 21 after which time the chief executive of Kerry County Council will make a recommendation on the matter to the members of the municipal district council.
All documentation is available from the Country Council Website Kerrycoco.ie
The N22 Lewis Road and Kilcummin Road Upgrade Project involves the upgrade of approximately 0.8km of the N22 National Primary Route which forms part of the Killarney Bypass. Specifically, the project focuses on the upgrade of a staggered junction which connects the L3902 Lewis Road and the L2033 Kilcummin Road to the N22.
The location of numerous sports facilities to the north and south of the bypass creates a strong demand for crossings of the N22 by vulnerable road users.
This project proposes to upgrade the junction in terms of safety and capacity and to provide improved facilities
for all road users.
The project generally comprises of:
Resurfacing and redistribution of the N22 Road Pavement within its existing extents over a distance of 0.8km;
Construction of a three-arm roundabout on the N22 circa 400m east of the Ballydribbeen Railway
Bridge in the townland of Deer Park. (Provision for a fourth arm has been made to facilitate future connection of a Link Road to Killarney Town Centre)
Realignment of the L2033 Kilcummin Road over a distance of 500m to connect to the N22 at the proposed roundabout;
Introduction of kerbing and bollards to prevent all right turning movements both to and from the L3902 Lewis Road and to prevent illegal u-turn manoeuvres through the length of the project.
Rearrangement of the existing road cross section to provide enhanced cycle and pedestrian facilities;
Provision of a pedestrian and cycle subway linking Bridgefield Housing Estate to the realigned L2033 Kilcummin Road. This subway shall have public lighting.
Earthworks, Drainage, footpaths/ cycleways, public lighting, fencing, road signage, road markings,
Landscaping and other ancillary works associated with the development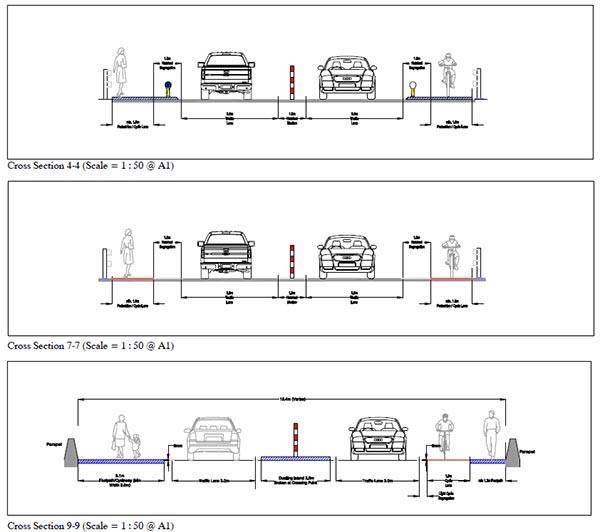 Detailed Drawing are available from http://www.kerrycoco.ie/home3/roadsmain/public-consultation-part-8-n22-lewis-road/