A KILLARNEY councillor has said he was happy to be able to designate some of his annual local authority allocation to fund the laying of a new footpath close to the bridge on Countess Road.
Cllr Donal Grady said the pavement is busy and well used by pedestrians as it serves the people of Countess Road and Woodlawn and, of course, those commuting to and from St Oliver's National School.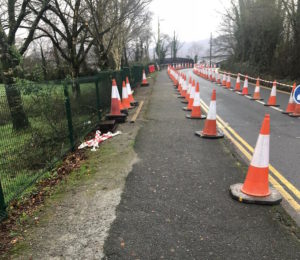 The footpath as completed following substantial overlay works on the main Park Road and Countess Road in recent weeks.
The works on the Countess Road were completed on November 27/28 with crews on site from 8am to 8pm each day.
It follows substantial overlay work on the Hans Liebherr Road which was completed very swiftly with crews on site overnight.